ESPAÑOL
ENGLISH
Sexy fashion sale: Dresses, Shirts, Pants, Leggings
Because we know that you like to always look sexy and attractive, here we offer a selection of clothing to make you feel sexy at all times. Dresses, skirts, blouses, pants, leggings ... You can click on "See More Models" (*) so you can access an extensive catalog of women's clothing at lower prices on the Internet.
(*) If you do it from a computer, you will see the complete catalog.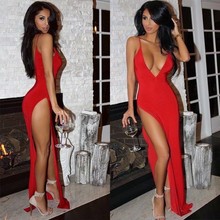 Long dress, super sexy, cocktail party, red, blue or black, sizes S, M, L, XL.
The most popular
Free shipping