ESPAÑOL
ENGLISH
Babydolls, negligee, sexy pijamas and nighties
Suggestive and insinuating, the babydolls, nightgown or negligee, is an indispensable garment to highlight all the sensuality of the female body. For its great variety of styles, colors and models, there is always a flattering babydoll for every physique and size. They should not be missing in every woman's wardrobe.
Here you can find more than one hundred models at incredible prices and special offers every week.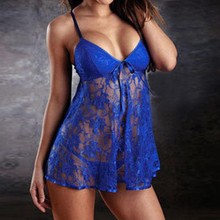 Babydoll lace and thong, various colors, sizes S~XL, excellent quality.
More popular
Free shipping !